Everyone Welcome!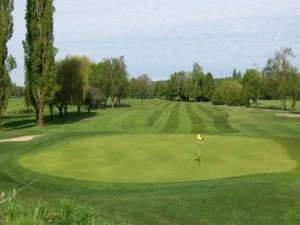 Surrey Golf Club is conveniently situated on the eastern boundary of Surrey near the Langley/Surrey border and is readily accessible from #1 Highway via 176 street exit to the North and #10 highway via Route 99 to the south. It is bordered by the Serpentine River to the South, 168 street to the west, farmland to the east and Fraser Highway to the North.
Facilities include
two golf courses
, an
18-hole championship course
– Main Course, and an
Executive Nine
– The Willows Nine. The Clubhouse is comfortable featuring the 80 seat Bud's Bar and Grill, 150 seat Lando Banquet Room and a fully stocked Pro Shop. Practice facilities include a large putting green, chipping green and warm up nets.
Surrey Golf Course enjoys a reputation of providing excellent value to the discriminating golfer through a policy of maintaining reasonable prices for an excellent lay out and very good playing conditions, thereby providing excellent golfing value.
The Main Course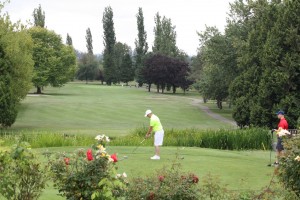 Designed and built by local golf course developer, Dan Kitsell, Surrey Golf Course has transformed from a links style to a traditional golf course over its 40-year existence. It has grown slowly in prominence as not only a true test of golf but as an enjoyable one with many attractive features.
The Blue Tees measure 6,803 yards and features one of the Lower Mainland's best par 4's (#15 at 417 yards) and one of the most challenging par 5's, (#18 at 630 yards). The par 3's are picturesque and water is featured on two of them.
The layout contains a nice mix of hazards, bunkers and mid fairway obstacles and while challenging, the fairways are generous and the rough and trees are kept trimmed. A beautiful variety of mature trees coupled with gentle rolls make the Main Course a pleasant experience and easy to walk.
For several years, Surrey has enjoyed an excellent reputation for great greens – fast and true, a tribute to Superintendent Steve Peardon and his crew.
---

The Willows Nine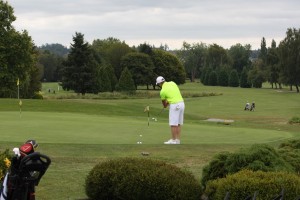 The North Nine was built in the mid 1980's  out of consideration of the many new golfers who find playing regulation golf courses too demanding and not very enjoyable. For this reason, the Willows Nine is significantly shorter at 1983 yards, but still features a good mix of holes and an opportunity to use every club in your bag.
For the above reasons, the Willows Nine's clientele is characterized by novice golfers, junior golfers, senior golfers, and experienced golfers looking for a course upon which to play a quick nine. It is also very economically priced.
The Willows Nine features 5 par 3's and 3 par 4's and 1 par 5. Water is featured on 4 holes; there are ample bunkers and the greens are interesting and challenging.
---



The Clubhouse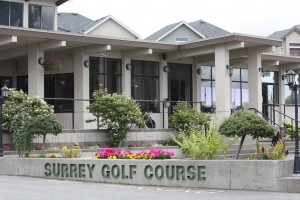 The Clubhouse at Surrey Golf Club is comfortable and provides an inviting atmosphere for a quick bite before teeing off or apres golf – thirst quenching and appetite pleasing!
An outdoor patio permits golfers to enjoy watching golfers tee off #1 and #10.
The Lando Banquet Room provides a very pleasant atmosphere for a variety of events. Golf Tournament Dinners, Company Seminars and Parties, Weddings and Anniversaries are just a few of the various uses made of this facility.
The Club has ample parking and a battery of professional staff is ready, willing and able to help you with planning suggestions. Again, prices are reasonable and the Banquet Program offers good value to its clients.
See Tournaments and Banquets & Seminars for more information on our services.
---



The Pro Shop
Surrey's Golf Shop Manager, has taken great pride in building a professional Pro Shop featuring attractive reasonably priced merchandise. His staff is comprised of experienced golfers who understand the needs of golfers, and take great pride in keeping the tee on time. They are able to handle a full range of inquiries and if they can't answer your question immediately, they will do so as soon as possible.
---

Surrey Golf Club Welcomes Everyone, and that means that it is open to the public!
While open to the public, Surrey Golf Club has a loyal array of associate member clubs that play at Surrey. The Surrey's Men's Club was formed the first week the club was opened (1971) and have played at Surrey ever since. The Club also has an active Ladies Club that plays Thursday mornings, a Business Ladies Club that plays mid Saturday morning, and a Tuesday and Wednesday Seniors Club. Surrey recognizes the important of Junior Golf to the long term preservation and development of the game of golf. Junior Passes are available on the Willows Nine or on the Main Course, each at different price points with varying benefits. Review the section on Associate Memberships for a full review of benefits.
---

Special Events are an opportunity for the staff of Surrey to showcase the golf course, clubhouse and its services. The Club enjoys sponsoring monthly events throughout the year as well as providing full support to the events hosted by the Associate Clubs'. See the Special Events Section for a chronological list of the events.
We look forward to serving you soon at Surrey Golf Club.
Should you have a particular need or want not covered in the Web Site, please do not hesitate to call, fax or e-mail Surrey Golf Club.