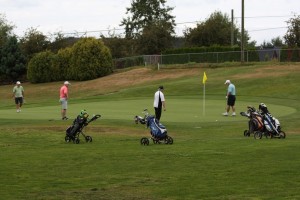 Thank you for expressing an interest in holding your next organized golf event at Surrey Golf Club.
Below, please find important information and suggestions for types of events that may be suitable to your needs. These suggestions are based on our many years of experience in both hosting and executing corporate, charitable, and association events.
---
All tournaments/golf outings include the following:
Appropriate tables, chairs and any other equipment you may require will be provided for you on tournament day. If you have special needs at registration be sure to let us know at least 48 hours in advance.
Frequently, tournaments arrange for sponsor recognition signs that need to be placed at various tees or greens. Our staff will be happy to place these signs for you in accordance with your instructions. Please ensure that the signs are delivered to the course well in advance of the tournament and advise us as to which tee boxes or greens you require the signs to be placed. Our staff will collect your signage at the end of your event, please ensure that you take your signage with you as we will only store your signs for one week following your event.
Closest To The Pin, Long Drive Or Other On Course Competitions
Surrey Golf Club maintains a supply of KP and LD markers and we would be happy to provide these for you in accordance with your instructions as to the type of marker and where they need to be placed.
Tournament Consultation And Advice
We host over 80 tournaments a year and we therefore 'have seen it all'! We would be happy to share our knowledge, experience and ideas with you to make your event the best ever.
For more information please e-mail tournament@surreygolf.com or
phone 604-576-8224 ext 229
Note: A $500 deposit will be required in advance to hold any tournament or event reservation. Deposits will be refunded or deducted from your payment within 7 days following your event less any additional charges or damages caused by your event.
No matter which course you choose, you and your guests are bound to enjoy
your golfing experience at Surrey Golf Club!
If interested, please contact us at (604) 576-8224 ext 229